Decorative tiles are a great resource to make any room in your home stand out with just a few elements. The decorated ceramics, placed in strategic places in the place you want to reform, will allow you to give a vibrant touch to your space.
Use ceramic materials to decorate your room and give a touch of life and color to the room. The decorative tile is a highly versatile element, which makes it a great ally to redesign interiors and exteriors; at home and in the office; in public places and in large buildings.

Characteristics of Decorative Coatings
The decorative flooringThey use resources such as enamelling and embossed textures to give a more handmade effect to any room. Even hydraulic type tiles. Are you looking for this style for your home?
Decorative ceramics are not limited to floors, but you can also find decorative wall covering in the form of mosaics, which can take center stage.
TYPES OF DECORATIVE CERAMIC TILES
The ceramic tiles for decorative purposesThey can be found in interior cladding and, also, in exteriors such as buildings and commercial premises. Another very interesting possibility in interior design are decorative tiles for stairs, which can have mosaics, geometric figures or ornamental motifs.
On the other hand, the continuous decorative flooring achieves a more spacious impression in the place where it is placed, given its modern and certainly striking finish. In general, in the CEVICA catalog you will find pieces of very different styles: from the simplest to the most ornate.
Among the most viewed designs are also the outdoor decorated tilesmodernist style, or hydraulic tiles. Many of them, with ornamental or Mudejar print.
It is true that the most common form of decoration in this regard is square or rectangular ceramic tiles. However, in decorative tiles we can find other geometric, hexagonal or triangular figures, which extend along the ceramics. With this type of decorative tiles you can create perfect abstract patterns for wall cladding or, why not, mosaics for floors. You dare?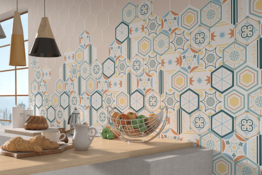 In addition to protecting the areas most exposed to heat, dirt and humidity, the decorative tiles for kitchenThey are a commitment to style and personality in this room, so important for any home. In general, they will give your kitchen that touch of life and originality that you are looking for.
Some decorative ceramic designs for the kitchen include patterns related to this room: fruits, vegetables, typical kitchen utensils ... A children's style that never goes out of style.
From CEVICA we also encourage you to contemplate the meshes and kitchen tiles decorated with ornamental patterns.Remember that you can play with the decorative elements of the tiles, such as their different textures and finishes, in a certain area of ​​the kitchen. Even if you have a small kitchen, you can make it look much warmer and more welcoming with the original touch of decorative ceramic tiles.
Do not hesitate to take a look at our catalog!